There are many types of socks for kids which include the cotton socks and cotton lycra socks. Secondly, The most prevalent socks is cotton lycra which everyone prefers to wear for their comfort and fit.
Everyone needs socks for different occasions namely school, sports, casual, formal wear and kids towel socks.
raw materials for socks
cotton
nylon
polyester
lycra is a stretchable yarn which makes the fabric stretchable. : polyester + elastic together to make a yarn.
Types of socks for Kids
School socks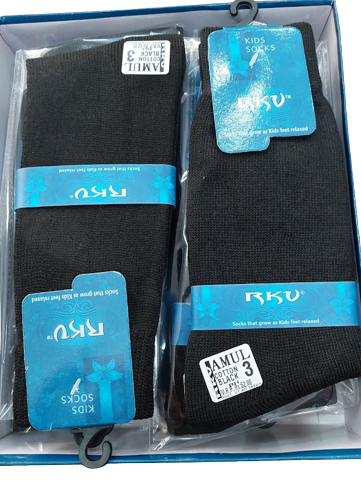 Every kid require school socks and are a must to wear. In conclusion, It is a part of his/her school uniform which is required in whole year.
You can read more about it here : School socks
Casual or sports socks
There are many varieties of socks for kids which include little angel socks. Above all, it is a multi color socks and comes in different sized for all age group.
These socks comes in different designs and patterns along with bright colors. As a result, it attracts kids.
Sports socks for kids
Sports socks find its use at multiple occasions for example : Under running/sports shoes, regular and casual use etc.
These are ankle socks which provide minimal cover of the leg, therefore providing more comfort to the heel and toe. The foot altogether remains in a best position for continuous rigorous use.
Casual socks
Casual kids socks include little angel and multi designs or solid color socks.
Since, it is casual it gives more flexibility to the kids to wear it on multiple occasions including regular use.